If this page doesn't load properly, please reload it.

Zumi's Labs is home of the ultimate Labrador Retriever! Bred for wonderful temperaments, exceptional conformations, great health, and strong hunting instincts. We produce all three colors, black, yellow, and chocolate Labrador Retriever puppies!

Zumi's Labs is now home to seventeen International Champions, a Best in Show, a Reserve Best in Show, and eight Labrador Retrievers with their CGC (Canine Good Citizen) titles! Our dogs also have many hunt titles in their pedigrees and have retained their natural hunting instincts.  All of our breeding dogs have their OFA health clearances, plus eye and heart clearances as well as being EIC tested, CNM clear, PRA clear and D Locus clear.  None carry the dilute gene!

All of our puppies have been well loved and socialized since birth being raised with other dogs and a lot of human visitors of all sizes. Our Zumi's Lab puppies are raised indoors until they are about four weeks old when they are moved outside to become accustomed the sights and smells of both. They are used to being handled and are tested on birds. Owner has been in the veterinary field for 22 years.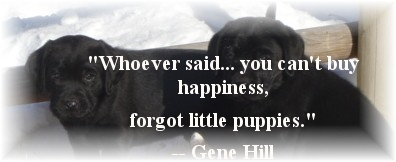 This picture is for my brother, Pete, who never wants me to take it off my website.  And the puppy's owner, Jill, who                  "couldn't ask for a better addition to our family."